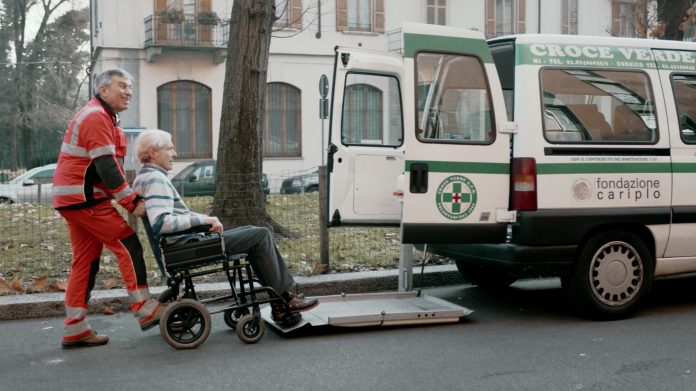 Croce Verde A.P.M. is a purely humanitarian institution, with deep roots in the city. The oldest in Milan, it was founded in the distant 1899, when volunteers with a good heart and strong arms were called upon to offer first aid to citizens.
But even those who help need help.
That's why the Croce Verde A.P.M. turned to the Armando Testa agency for a non-profit campaign looking for "daytime" volunteers.
In contrast to the night-time workers, who are usually young people or students, those working during the day have to do so without any "alarm call". They are mostly active pensioners who want to do their bit to help others.
That's why they started a recruitment campaign targeted particularly at them. The Armando Testa agency created a typically Milanese character called "Antonio". At a certain point he disappears from his usual haunts… Such as? Where you'd normally find retired people, a bowling ground, a bar with friends, at a dancehall, or watching men at work….
All his friends ask each other –even in Milanese dialect- "dov'è finito l'Antonio?" (Where did Antonio end up?). But no worries. Those who fear the worst are soon relieved: Antonio is dedicating lots of his time to helping others.
The film was produced by Pierangelo Spina's Production Company Filmgood and directed by Igor Borghi.
The music used is the popular Milanese song "La bella lava al fosso" reworked by Ferdinando Arnò from quietplease!
As well as the film which is running on local networks the campaign also includes posters in the points of major interest for the target, as well as a Facebook campaign, the social network favoured by the over 60s whose time dedicated to it continues to increase.
Credits
AGENCY – Armando Testa
CREATIVE DIRECTION– Vincenzo Celli, Dario Anania
ART DIRECTOR – Laura Sironi
COPYWRITER – Emanuele Accurli
ACCOUNT – Sofia Coen
PRODUCTION COMPANY– Filmgood
DIRECTOR – Igor Borghi